What a great day!!

This was a much anticipated event and I'm sure Kyra and Brendon were counting down the days! The day started at the bride's house with a light fun atmosphere of chatting and coffee. When I arrived there was so much excitement. I was totally excited! We started doing photos right away of all the beautiful details like the dress and rings and flowers. It was
lots of fun. Then the bride transformed from beautiful to breathtaking. She had help with everything from makeup, hair, to putting on shoes and veil. She was definitely a princess! That's what her dad thought I'm sure when he saw her for the first time on the porch! I have posted photos below so take a peek at the bride reveal with her dad… I will warn you these pictures may bring happy tears! Next we head to the church for some before wedding shots. Their family was so amazing and just supportive. They all came together to get photos and then we shot the photo I LOVE! Kyra was on one side of the front church door and Brendon was on the other side. Neither could see each other but they could lean against the door and reach out and touch each other's hand… oh my! I wanted to cry on spot it was so sweet! Next, the family had prayer together and gathered around Kyra…loved this too. The whole day was just filled with these type of moments. It was such a privilege to be a part of it!

The wedding ceremony was amazing. You should have seen Brendon's face when he saw Kyra! Oh wait, you can… just check out the photo. J Then a very memorable moment in the ceremony was when they read their vows to each other. I don't think there was a dry eye in the church. I know it seems like there is lots of crying but they're good tears I promise! After lots of family photos, we headed to the little path beside the church to my favorite part of the day.. the bride and groom photo shoot! They were perfect. They made my job so easy. It was a dream for a photographer. Their love just jumped out in every photo! I love, love, don't you? So they smiled, kissed, laughed and posed somewhat for lots of photos and then their precious grandfather had his car waiting to carrying them to their destination on the hill.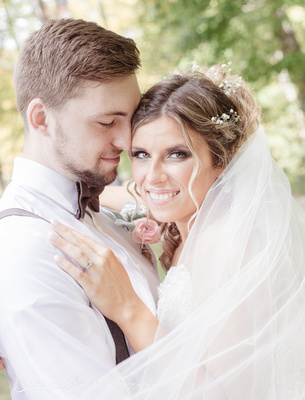 The reception was absolutely beautiful! Leah & Mariah did an amazing job with the stage and decorations! Kyra and family had created some beautiful centerpieces and nice touches everywhere around the room. The food was graciously provided by family and friends, not to mention the delicious cake and cupcakes! The environment was nicely lit with lights from above and candles! The bridal party and family was introduced and then in came Kyra & Brendon for their grand entrance.
Some events of the evening were:
Tying of the three ropes which signified the union of Kyra, Brendon, and God.
Lots of eating of yummy food and cake! They cut the cake and had a great time doing it. LOL
The speeches… oh my word! Here I go again with the tears! Brendon's brother, Kyra's maid of honor, and two parents did speeches that were just sweet, heartfelt, and funny. They had you hanging on to their words listening. Kyra & Brendon were so touched to have such sweet words spoken about and to them.
Then there was dancing: The first dance, the dance with dad & mom, group dancing and the dollar dances. Love dancing!! No, I didn't get to dance but lots of good photos of others dancing! One fella even "got down low!" Kyra and Brendon weren't far behind. Lots of laughter and fun.
Friend and family candid photos happened the rest of the evening. Check out the photo of his friends holding him in the air.. there's a couple actually! Lol!
What a great day!! It was one of my favorite weddings! I love the fact that Brendon was prayed for by Kyra's mom before they even met! God answered her prayer and their love is very evident! Kyra and Brendon, I continue that prayer, that God would grant you a life filled with joy, love, and happiness!